Adi Shankara Brahma Vidya Peeth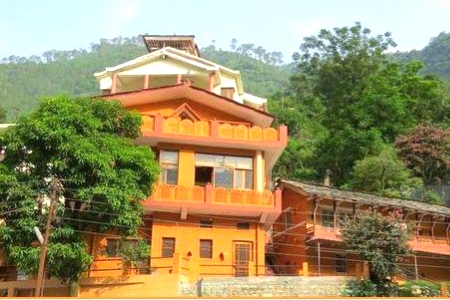 Adi Shankara Brahma Vidya Peeth is an institution run from the hallowed grounds of Somashram with the primary aim of preserving and propagating the knowledge of Brahma Vidya which is the basis of India's spiritual and cultural heritage. The institution is dedicated to the study of the profound scriptures in the traditional Indian way and to promote secular learning. Situated on the banks of Bhagirathi Ganga in Ujjaili, Uttarkashi the Peeth came into being in 2010 to protect and preserve the more than 100 year old Somashram as a centre for spiritual learning.
Due to paucity of funds, Somashram which has been residence to many great sages and teachers in the past was being put up for sale. That is when the Sadhus and Mahatmas of Uttarkashi stepped forward and bought the land from the previous owners with the generous help of like-minded devotees and Sadhakas.
The Peeth functions as a trust with an executive governing body of six members comprising sadhus from Uttarkashi and an advisory body comprising senior sadhus of various other Ashrams and spiritual institutions from all over India. Apart from spreading the teaching and philosophy of Adi Shankaracharya, the Peeth is dedicated to the mission of trying to attain world peace, brotherhood and religious harmony through spiritual knowledge and texts. Capable students are given free education and a suitable environment for learning. The Peeth currently houses 11 inmates including Acharyas. All the needs of the residents, educational and otherwise, are fully taken care of. A library is being constructed within the premises which will house books on various spiritual subjects, old manuscripts, audio-visual facility and much more. It is likely to start functioning on Adi Shankara Jayanti in 2018.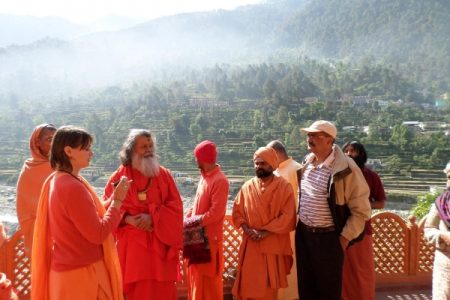 Swami Chidanandaji Maharaj (Divine Life Society, Rishikesh), Swami Chinmayanandaji Maharaj (Chinmaya Mission), Swami Nirgunanandaji (direct disciple of Yugacharya Swami Pranavanandaji) and Swami Ganeshanandaji Maharaj (Sadhana Sadan, Haridwar) have been residents of Somashram pursuing their spiritual practice. In 1950 and 1960s sages like Swami Tapovanam Ji Maharaj of Tapovan Kuti and Swami Chaitanyanandaji Maharaj of Sivananda Ashram, Ujjaili taught Vedanta here.