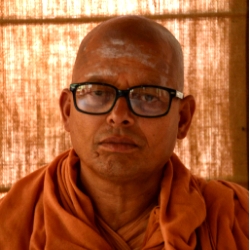 Acharya Swami Vishnu Tirtha, is the senior-most Acharya in Uttarkashi and the chief patron of the Trust. A disciple of Sri Swami Narahari Tirthaji of Gangotri, he has studied the darshanas and vyakarana from the Sri Kailash Brahmavidya Peeth, Rishikesh and from Mahamandaleswar Divyananda Saraswatiji. The sannyasis and sadhakas of Uttarkashi have benefited immensely from his lucid teaching of Vedanta.
Swami Vishnu Tirtha ji Maharaj is the senior most acharya of Adi Shankara Brahma Vidya Peeth. He embarked on his spiritual journey in 1971, while he was still a teenager, wandering in distant lands in his quest.
After spending a few years in the holy town of Kashi, Vishnu Tirtha ji left for Vrindavan and spend over three years studying the Srimad Bhagavatam. In 1978, his quest took him to Uttarkashi. He spent a year and a half there, staying at Pashupati Ashram, engaged in the study of scriptures. Swamiji then made his way to Gangotri, where he found his Guru Dandi Swami Narahari Tirtha ji. Vishnu Tirtha ji stayed with his Guru till he breathed his last breath in 1988.
He came back to Uttarkashi for further studies but had to leave for Rishikesh due to a spell of illness. At Kailash Ashram in Rishikesh, he had the good fortune of studying the scriptures by at the feet of great Acharyas like Mahamandaleshwar Swami Vidyananda Giri ji Maharaj, Swami Harihara Tirtha ji Maharaj and Mahamandaleshwar Divyananda Saraswati ji Maharaj.
Swamiji then shifted to Swargashram, on the other side of the holy Ganga, living on bhiksha (alms) and continuing his scriptural studies with the Acharyas. After having studied for around five years, he started teaching at Kailash Ashram, mainly Nyaya and Vyakarna.
In 1998, Swami Vishnu Tirtha ji relocated to Uttarkashi and started selflessly sharing scriptural wisdom with earnest seekers from all over. Swami Haribrahmendrananda ji and Swami Sharvananda ji, current acharyas of ASBVP, as well as Swami Janardhanananda ji, Swami Hariomananda ji and many other renowned swamis and sadhakas of Uttarkashi were among his students who are now dedicated to take the torch forward, along with him.
When he had lost his small hermitage to the Ganga floods he shifted temporarily to Himachal Pradesh, only to return three years later. As a resident Acharya since 2016, Swamiji has been a pillar of strength to Adi Shankara Brahma Vidya Peeth, and to all the spiritual seekers.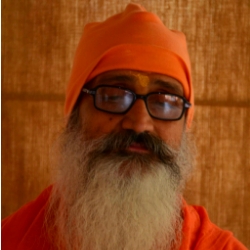 Acharya Swami Sharvananda Giri, is also the Vice-president of the Trust. Initiated into sannyasa Brahmaleen Acharya Mahamandaleshvar Swami Vidyanandaji Maharaj of Kailash Ashram, Rishikesh, he has been tirelessly engaged in study, sadhana and service for over thirty years. He is also associated with the Bharat Sevashram Sangha, Uttarkashi.
Swami Sharvananda Giri ji is one among the three acharyas of Adi Shankara Brahma Vidya Peeth, since 2009.
Swamiji was born in 1953 in Kolkata, West Bengal. After completing his schooling, he continued his higher studies and became and engineer. After having worked for fourteen years as an engineer at the Indian Ordinance Factory, Ministry of Defence, Swamiji renounced that life in 1984 and embarked on his spiritual journey at the age of twenty-nine.
Swamiji's quest for the Divine began with the book, Yugacharya Sanga & Upadeshamrita written by Swami Atmananada ji Maharaj who would later become his Guru. Having no inclination toward spirituality till that point, this book gave Swamiji an insight into another dimension of human life. He developed an intense desire to meet the author of the book. Within a few days, by an inexplicable coincidence, his Kanpur office was relocated to the Kolkata office for about four days. In the morning while walking to the Kolkata office, he was mesmerized by the sounds of arati going on in the nearby building. Hypnotically he followed the sounds only to enter the Kolkata Ashram of Bharat Sevashram Sangha. He was amazed to see the photograph hung on the wall which was the same as the cover photo on the book, none other than the person he was longing to meet.
Once the arati finished, Swamiji, prostrated at the feet of the Swami Atmananda ji, who put his hand on the young man's head and told him cryptically, "This human birth is not meant only for eating, drinking and procreation." Puzzled, Swamiji looked up and said, "I hadn't asked any question and I don't comprehend what you mean." Swami Atmananda ji replied, "When the time comes, you will comprehend". This statement started playing in his mind in a continuous loop as he was trying to fathom the meaning.
In 1983, he had another opportunity to meet Swami Atmananda ji, while he was on a trip to Kolkata. During that meeting, without any premeditation, he requested his Guru for deeksha. His Guru agreed, which was a rare gesture on his part. Swamiji was initiated into a mantra and his Guru dispelled his doubts and fears with these loving and reassuring words, "Don't worry I am here for you. Guru Maharaj ji is Shiva and he is always with you!" These words have stayed with Swamiji ever since and so has his Guru's grace.
In 1984, Swamiji renounced his home and hearth and made his way to Uttarkashi. After spending seven years as a brahmachari, he was ordained into Sannyasa in 1991. His spiritual life was moulded by the towering Vedantin of the time, Swami Chaitanyananda Saraswati ji Maharaj, a direct disciple of Swami Sivananda ji Maharaj of Rishikesh and who studied the scriptures directly from the famed Tapovan ji Maharaj. During his eleven years of intense studies, Swamiji studied the entire range of Upanishads, Brahmasutras, Bhagavad Gita and Sanskrit grammar. Since 2009, he has been spending his days with one pointed dedication to the spreading of the sublime knowledge of Santana Dharma. He teaches tirelessly and selflessly throughout the year. He has been teaching at the Adi Shankara Brahma Vidya Peeth since 2011. He also teaches in Pranavadham, Kailash Ashram in Uttarkashi. He has reached out to audiences in Switzerland, London, Holland, Bahamas and New York to share the sublime wisdom of Vedanta and Bhagavat Gita. Swamiji has also edited the English version of his Acharya's profound work on Sri Dakshinamurti Stotram.
Swamiji has stayed in Uttarakashi ever since his arrival in 1984. He continues to lovingly guide the students and the activities at the gurukulam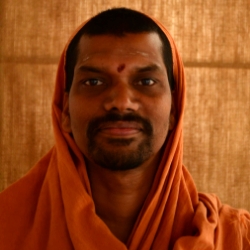 Acharya Swami HaribrahmendranandaTirtha, also the Secretary of the Trust has been diligently teaching Vedanta for over fifteen years after having studied under several noted Acharyas of Uttarkashi. He was inspired to come to Uttarkashi from Kerala at the young age of fifteen years and at sixteen years was initiated into sannyasa deeksha through the guidance of Swami Brahmendrananda Tirthaji.
Swami ji was born in December 1978 in Thiruvananthapuram, Kerala. In his childhood, he was guided by his Guru Swami Brahmendrananda Tirtha in his spiritual journey. His Guru hailed from Karnataka and was revered by his family members as well.
As a child, he became an adept in the puja system of worship of the all-pervading divine, because of the loving, fatherly training imparted by Acharya Yogananda Nath ji.
In April 1994, after finishing ninth standard in school, Swamiji started his journey to the Himalayas and reached Uttarkashi. This is where he met his first Acharya Swami Chaitanyananda Saraswati ji Maharaj, with whom he started his study of scriptures. He also received his Sannyasa Deeksha from Swami Chaitanyananda ji in the name of his Guru, Swami Brahmendrananda Tirtha. Swami Chaitanyananda Saraswati ji Maharaj was a direct disciple of Swami Sivananda ji Maharaj of Rishikesh and studied the scriptures directly from the famed Tapovan ji Maharaj.
In 1998, when Swami Vishnu Tirtha ji Maharaj came to stay at Kailash Ashram, Swamiji had the opportunity to study other scriptures as Siddhanta Kaumudi, Nyaya, Tarka, Vaisheshika Darshana, Mimamsa Darshana and other Darshana Sastras.
Swamiji also had the good fortune of studying with other Acharyas – Swami Chitchaitanya Puri who was the disciple of Swami Ganeshananda Puri ji of Sadhana Sadan, Haridwar and Swami Paramananda Bharati of Sringeri Mutt.
Studying with these acharyas, Swamiji mastered a wide range of scriptures and spiritual practices with corresponding insight into allied fields such as Buddhism, psychology and quantum physics. With his minimal formal education, Swamiji has a formidable insight into latest scientific developments.
As a child, Swamiji learnt yoga from his father and grandfather. The reason for his undying love for Yoga – Yoga Darshana and Sankhya Darshana – stems from his studies and personal experiences in the field. The quest for answers for the many knotty questions that arose after the subsequent studies of Yoga Sutra lead him to a great master hidden in a remote place unbeknown to the world at large. The ashram of this peerless master of Yoga, Vashi Yogi Mani Yettan, who always shunned lime light and fame, is situated in Vilayodi, Kerala. This recluse not only taught a special form of pranayama to our Swamiji, but also provided answers to all the hitherto lingering questions about yoga, from the vast repertoire of his experiential and scriptural knowledge, where the answers were beyond the ken of pedantic speakers, authors or their books.
In 2003, at the age of twenty-four, Swamiji took up teaching on his Acharya's instructions. He taught at the Sivananda Ashram, Ujaili till 2010. Ever since, he has been teaching at the Adi Shankara Brahma Vidya Peeth.
From an early age, Swamiji developed writing as a hobby and since he had studied Sanskrit in school, he could learn to read and write in Sanskrit easily. This led him to author various books, some of which he wrote making use of his teaching notes. He has authored books on Patanjali Yoga Darshana, Yoga Pradipika, Sankhya Karika and others. Swamiji's vision is to produce books pertaining to our ancient traditions.
Adi Shankara Brahma Vidya Peeth is publishing the complete works of Shankaracharya, titled "Shankara Sārasvata Sarvasvam" in 18 volumes, out of which five volumes are already released. Swamiji has been overseeing the editorial aspect of production of the volumes.